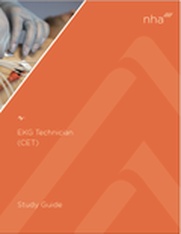 Certified EKG Technician (CET) Printed Study Guide
The Printed Study Guide is a complete Certified EKG Technician review module with 89 pages of concise core content to prepare candidates for their NHA CET exam.
*Printed materials will be mailed to your shipping address.
Ideal for preparation and remediation, the study guide includes case studies and summary sections in the following content areas:
Introduction
The Heart: Anatomy and Physiology
EKG Monitoring
Patient Care
Case Studies Summary
This engaging printed study guide includes:
Instructional lesson content written specifically to align with the actual certification exam.
Practice drills covering all basic and necessary job skills.
Review questions - 20 drill questions, 20 case study drill questions.
Other items you might be interested in