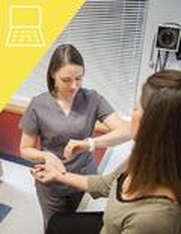 Certified Patient Care Technician/Assistant (CPCT/A) Online Study Guide
This one-of-a-kind online study guide tutorial prepares candidates for their NHA CPCT/A exam and is aligned to the NHA Certified Patient Care Technician/Assistant exam blueprint.
*Online materials can only be accessed on your computer or tablet.
Modules:
Introduction
Patient Care
Safety
Professional Responsibilities
Infection Control
Phlebotomy
EKG Monitoring
Case Studies
Summary
This engaging online study guide includes:
Instructional lesson content written specifically to align with the actual certification exam.
Practice drills covering all basic and necessary job skills.
Review questions – 40 chapter drill questions, 17 case study drill questions.
Audio narration for each page and video - Because each individual learns differently, we support the visual content with audio for better comprehension.
Three case study videos and summary video for real-life application of skills.
Other items you might be interested in