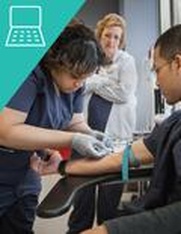 Certified Phlebotomy Technician (CPT) Online Study Guide & Practice Test
Prepare for your Certified Phlebotomy Technician exam with an engaging online study guide and online practice test resources. The study guide and online practice test combination provides candidates and employees with remediation with Focused Review® that takes them back to areas that need attention, aiding in exam preparation.
Online Study Guide Tutorial
This one-of-a-kind online study guide provides a comprehensive review of core principles associated with Phlebotomy Technician job responsibilities and is ideal for preparing candidates for their NHA national CPT exam.
Modules:
Introduction
Anatomy and Physiology
Patient Care
Procedures
Case Studies
Summary
This engaging online study guide includes:
Instructional lesson content.
Practice drills covering all basic and necessary job skills.
Review questions - 27 drill questions, 22 case study drill questions.
Audio narration for each page and video because each individual learns differently, we support the visual content with audio for better comprehension.
Three case study videos and summary video for real-life application of skills.
Online Practice Test
This 100 item practice test is designed to prepare candidates for the NHA CPT exam, providing immediate feedback on basic comprehension and mastery of CPT principles. The test is linked to Focused Review ® online remediation, which provides candidates with personalized direction on areas they still need to master based on assessment results.
Assessed Concepts Include:
Patient Preparation
Collection Techniques: Primary Collection
Collection Techniques: Special Collections
Processing
Safety and Compliance Considerations
Practice Test Details:
Online practice assessments can be accessed from any Internet connection, offering you the flexibility to test yourself anytime.
Practice test works in conjunction with the CPT study guide.
Assessment contains rationales explaining correct and incorrect answers.
Online assessments may be accessed five times with each purchase.
Other items you might be interested in