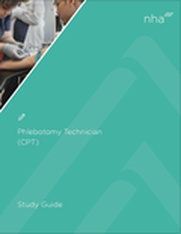 Certified Phlebotomy Technician (CPT) Study Guide (Printed)
The Phlebotomy Technician Printed Study Guide is a comprehensive Certified Phlebotomy Technician review module with 105 pages of concise core content intended to prepare candidates for their NHA CPT exam.
*Printed materials will be mailed to your shipping address.
Ideal for preparation and remediation, the study guide includes 27 chapters along with case studies and summary sections in the following content areas:
Introduction
Anatomy and Physiology
Patient Care
Procedure
Case Studies
Summary
Engaging Printed Study Guide Tutorial Includes:
Instructional lesson content.
Practice drills covering all basic and necessary job skills.
Review questions - 27 drill questions, 22 case study drill questions.
Other items you might be interested in