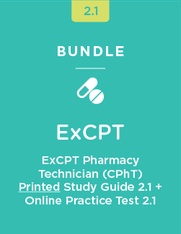 ExCPT Pharmacy Technician(CPhT) Printed Study Guide + Online Practice Test 2.1
The ExCPT Printed Study Guide 2.0 is a comprehensive review module for pharmacy technicians with 226 pages of concise core content to prepare for the CPhT exam.
*Printed materials will be mailed to your shipping address.
Ideal for preparation and remediation, the study guide includes eight chapters, eight case studies with review questions, nine 20-question quizzes (two quizzes for calculations section), and summary sections in the following content areas:
Pharmacy Technician Overview
Laws, Regulations and Controlled Substances
Medication Classifications
Prescription and Medication Order Intake and Entry
Preparing and Dispensing Prescriptions
Calculations
Sterile and Nonsterile Products, Compounding, Unit Dose, and Repackaging
Medication Safety and Quality Assurance
This engaging printed study guide includes:
Instructional lesson content written specifically to align with the actual certification exam.
In chapter challenge questions to check understanding.
End of Chapter Quizzes (180 total questions).
Eight Case Study Summaries.
Twenty-four case study drill questions.
This supplemental practice exam includes assessment questions to use as a self-study resource prior to sitting for the national certification exam.
This 100-item test offers immediate feedback on basic comprehension and mastery of CPhT principles. The test is linked to Focused Review® online remediation, which provides personalized direction to content that still needs to be mastered. Ideal for exam preparation when used in conjunction with the ExCPT Pharmacy Technician Exam (CPhT) Study Guide 2.0 (online and printed versions).
*Online materials can only be accessed on your computer or tablet.
Practice Test Details:
Online practice assessments can be accessed from any internet connection, offering the flexibility to test anytime.
Practice test works in conjunction with the ExCPT study guide 2.0.
Assessment contains rationales explaining correct and incorrect answers.
Online assessments may be accessed six times with each purchase.