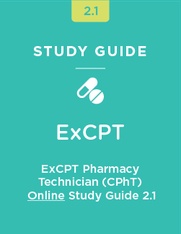 ExCPT Pharmacy Technician Exam (CPhT) Online Study Guide 2.1
This one-of-a-kind online study guide engages and prepares candidates to pursue the Certified Pharmacy Technician (CPhT) certification. Aligned to the ExCPT exam blueprint, the online material includes Focused Review® online remediation, which provides personalized direction to content that still needs to be mastered.
*Online materials can only be accessed on your computer or tablet.
Modules:
Pharmacy Technician Overview
Laws, Regulations, and Controlled Substances
Medication Classifications
Prescription and Medication Order Intake and Entry
Preparing and Dispensing Prescriptions
Calculations
Sterile and Nonsterile Products, Compounding, Unit Dose, and Repackaging
Medication Safety and Quality Assurance
This engaging online study guide includes:
Overview videos before each module.
Instructional lesson content written to align with the exam for the Certification of Pharmacy Technicians (ExCPT) blueprint.
Practice questions and interactive games covering all basic and necessary job skills.
Quizzes for each module to assess topic comprehension.
Audio narration for each page and video. Because each individual learns differently, we provide optional audio support of all content for improved comprehension.
Case study videos and professionalism tips from experts in the field for real-life application fo skills.
Pharmacy Calculations Lab to demonstrate how to solve common pharmacy calculations.
Disclaimer: The purchase of NHA exam preparation materials is not required to sit for any NHA certification exam and use does not guarantee a passing score on an exam. All NHA certification programs and the corresponding exams are NCCA-accredited