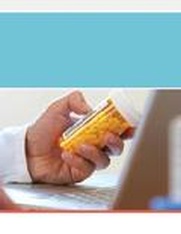 ExCPT Pharmacy Technician (CPhT) Printed Study Guide 2.0
The ExCPT Printed Study Guide 2.0 is a comprehensive review module for pharmacy technicians with 226 pages of concise core content to prepare for the CPhT exam.
*Printed materials will be mailed to your shipping address.
Ideal for preparation and remediation, the study guide includes eight chapters, eight case studies with review questions, nine 20-question quizzes (two quizzes for calculations section), and summary sections in the following content areas:
Pharmacy Technician Overview
Laws, Regulations and Controlled Substances
Medication Classifications
Prescription and Medication Order Intake and Entry
Preparing and Dispensing Prescriptions
Calculations
Sterile and Nonsterile Products, Compounding, Unit Dose, and Repackaging
Medication Safety and Quality Assurance
This engaging printed study guide includes:
Instructional lesson content written specifically to align with the actual certification exam.
In chapter challenge questions to check understanding.
End of Chapter Quizzes (180 total questions).
Eight Case Study Summaries.
Twenty-four case study drill questions.
Other items you might be interested in