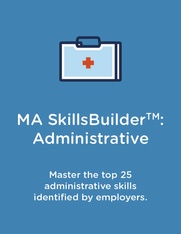 MA SkillsBuilder™: Administrative
MA SkillsBuilder™: Administrative is an all-in-one resource for learning, practice and assessment  of the top 25 administrative skills identified by employers. It helps learners master both the technical skills and job-ready knowledge needed to handle front- and back-office administrative duties. 
Modules include:
Module 1: Telecommunications
Module 2: Registration
Disease and Treatment
Module 3: Scheduling
Module 4: Beginning the Visit
Module 5: Coding
Module 6: Billing
Module 7: Ending the Visit



Key Features:

Real-life EHR scenarios
Variety of reflection activities associated with the patient experience
Disease and Treatment
Activities tied to the case studies
End-of-module quizzes
Skills checklists
And more!

Learn more about MA SkillsBuilder™:Administrative.
Other items you might be interested in