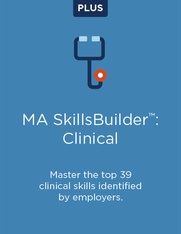 MA SkillsBuilder™: Clinical Plus
MA SkillsBuilder™: Clinical Plus is an all-in-one resource for learning, practice, and assessment of the top 39 clinical skills identified by employers. It helps learners master both the technical and job-ready knowledge that's needed to handle clinical duties - PLUS - 13 additional modules providing comprehensive coverage of foundational content to support the knowledge required for today's medical assistants.
Foundational + Skills Modules:
Position of the MA in Health Care
Legal Fundamentals and Medical Ethics
Communication
Clinical Communication
Infection Control and Personal Safety
Infection Control
Patient Screenings
Vital Signs and Body Measurement
General and Specialty Medical Assisting
Eye and Ear Procedures
Pediatric Procedures
Cardiac and Respiratory Procedures
OB/GYN Procedures
Assisting with Minor Procedures
Minor Surgical Tasks
Laboratory Regulations and Procedures
Urine Collection and Analysis
Laboratory Tests
Phlebotomy
Phlebotomy and Related Testing
Pharmacology and Medication Administration
Pharmacology
Nutrition
Patient Education and Support
Medical Emergencies in the Office
Key Features:
Real-life EHR scenarios
Variety of reflection activities associated with the patient experience
Disease and Treatment
Activities tied to the case studies
End-of-module quizzes
Skills checklists
And more!
Disclaimer:
The purchase of NHA exam preparation materials is not required to sit for any NHA certification exam and use does not guarantee a passing score on an exam. All NHA certification programs and the corresponding exams are NCCA-accredited