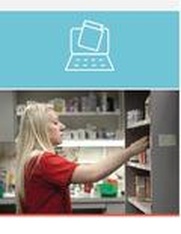 Pharmacy Technician Online Learning Manual
Features of the learning manual include the following:
Practice tool for national certification such as the Exam for the Certification of Pharmacy Technicians (ExCPT®).
Technicians' basic job responsibilities.
Includes numerous illustrations and examples. Each module links to a practice test.
167 sample questions.
Easy to incorporate into employee orientation and performance assessment programs.
Model curriculum content to assist programs interested in pursuing programmatic accreditation.
Training at three levels--Introductory, Certification, and Career Development--to help candidates focus their studying.
*Online materials can only be accessed on your computer or tablet.
Companion Workbook
The workbook is a companion piece to the Pharmacy Technician Training Program. The workbook includes self-assessment questions and practical exercises that allow candidates to review prior to testing.
Other items you might be interested in