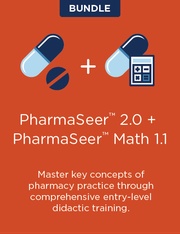 PharmaSeer 2.0 + PharmaSeer Math 1.1
PharmaSeer™ is an online training tool that provides new pharmacy technician employees and students with comprehensive entry-level didactic training to complement performing hands-on tasks in order to provide safe, effective and efficient patient care. With constant performance feedback and recommended skill proficiency activities, PharmaSeer™ builds technician confidence and provides pharmacy trainers and educators with clear visibility into their technician comprehension of critical concepts and progress through the content.
PharmaSeer™ includes extensive didactic content delivered over 20 modules and 140 lessons, including:
1,400 scored assessment questions
700 in-lesson self-evaluation assessments to practice comprehension of content presented
More than 130 additional practice problems to build confidence in difficult-to-master topics
Modules:
Module 1: Introduction and Basic Overview
Module 2: Prescription Medications - General
Module 3: Prescription Medications – Controlled Substances
Module 4: The Dispensing Process
Module 5: Pharmacy Calculations
Module 6: Self-Management Skills and Interpersonal Skills
Module 7: Patient Interaction
Module 8: An Overview of Federal Privacy Requirements
Module 9: Managed Care Prescriptions
Module 10: Non-Dispensing Duties
Module 11: Drug and Medical Terminology
Module 12: Basic Anatomy and Physiology
Module 13: Basic Pharmacology
Module 14: Commonly Prescribed Interventions
Module 15: Infection Control and Wellness Promotion
Module 16: Over-The-Counter Medications
Module 17: Unit Dose Systems and Drug Repackaging
Module 18: Non-Sterile Product Compounding
Module 19: Sterile Product Compounding
Module 20: Emergency Situations
PharmaSeer Math
PharmaSeer MathTM is a digital learning resource that helps current and future pharmacy technicians master calculations used in pharmacy practice. Through interactive learning, PharmaSeer MathTM prepares users with the skills and confidence to answer calculations used across all pharmacy settings to reduce calculation errors.
KEY FEATURES:
Self-paced and online
Accessible anywhere ( computer, tablet & mobile)
End-of-lesson quizzes
Demonstrates 3 calculations methods within each calculation activity, giving learners the power to choose which woks best for them.
Animated demonstrations and step-by-step activities show how to perform each calculation method.
Can be used alone or complementary to PharmaSeerTM
LEARNING MODULES
Module 1: Introduction and Measurement Basics
Module 2: Dispensing Calculations and Business Math
Module 3: Single-dose Calculations
Module 4: Sterile and Non-sterile Compounding Calculations
Module 5: Calculations for Special Circumstances