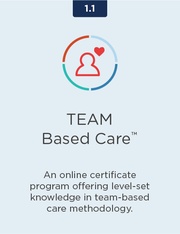 TEAM Based Care Program 1.1
TEAM Based Care™ is an online learning and assessment-based certificate program that provides learners with level-set knowledge and understanding of team-based care methodology. The program features three independent study eLearning modules.
Modules include:
Module 1 – Population Health Management
Module 2 – Teamwork and Care Coordination
Module 3 – Team-Based Care in Practice: Methods and Techniques
Learners who successfully complete this program will understand the techniques required to provide high quality team-based care and be prepared to work effectively in a team-based care environment.
Disclaimer:
The purchase of NHA exam preparation materials is not required to sit for any NHA certification exam and use does not guarantee a passing score on an exam. All NHA certification programs and the corresponding exams are NCCA-accredited